REGAINE® Foam for men:

A clinically proven twice daily treatment in a format patients prefer1.
Single pack RRP £34.95
REGAINE® for Men Extra Strength 5% w/w Cutaneous Foam
9/10 men said they kept or regrew hair2
Scientifically proven to help stop and even reverse hairloss3
Easy to use, no mess
Designed to dissolve into the scalp where it is absorbed
Unscented and dries quickly
Results may be seen in as little as 8 weeks
98% of pharmacists and assistants would recommend REGAINE® foam4
available in a single pack with RRP £34.95 or a triple pack with RRP £69.95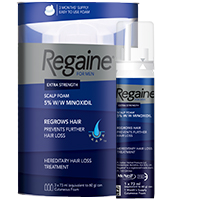 Triple pack RRP £69.95
Advantages of the REGAINE® thermolabile foam vehicle
Consumer tests indicate foam preference to the solution by a majority of men because of:5
easy application
less messy
quick drying
easy incorporation into daily routine
The best way for patients to use REGAINE® Foam

Managing patient expectations is critical for compliance
The below diagram illustrates what a patient can expect to see in their first 16 weeks. Please ensure patients are clear that everybody's results will vary and if no results have been seen after 16 weeks they should discontinue use.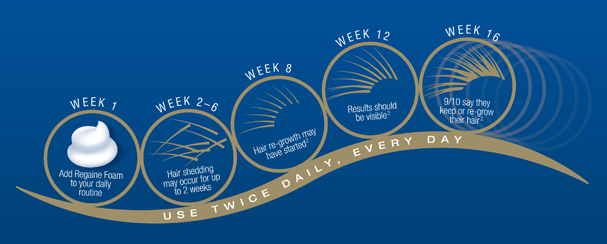 Any hair shedding that occurs in the first 2-6 weeks using REGAINE® Foam is likely a result of change within the growth cycle and means that hair follicles are being stimulated to grow new hair6.
Hair growth may be soft and downy at the start, but should eventually become normal6.
Blume-Peytavi U et al.,Follicular and percutaneous penetration of topical minoxidil foam – Penetration pathways of topically applied minoxidil. Poster presented at 6th World Congress for Hair Research, 17 June 2010, Cairns, Australia.
Olsen EA et al. J Am Acad Dermatol 2007; 57: 767-74.
REGAINE® for Men Extra Strength Scalp Foam 5% w/w Cutaneous Foam Summary of Product Characteristics.
Holden Pearmain 2011 Study. Data on File, McNeil Products Ltd.
In-Home Use Test, Russell Research Dec 2003.
REGAINE® for Men Extra Strength Scalp Foam 5% w/w Cutaneous Foam Patient Information Leaflet.
Stearn, M. Embarrassing Problems; Health Press1998 page: 21-25.